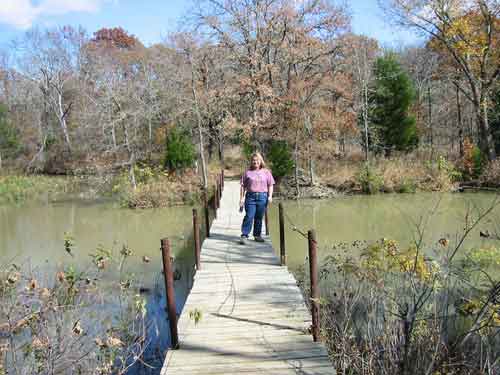 Martha and I went up to Lake Murray near Ardmore, Oklahoma, to "camp" in a luxury cabin and hike in the woods around the lake. Here we are on the first day, crossing a bridge over a small stagnant branch of the lake.
---
Another view of the wetlands.
---
I was likin' this rock.
There was a lot more hiking, and much of it was probably photogenic enough, but I didn't stop often to take pictures. It wouldn't have captured the essence of the experience, anyway.
---
After our hiking trip, Martha had to spend a couple of days at work, so Kristy took over the task of entertaining me. Here we're at The Science Place making soap bubbles.
---
Three colored lamps were shining on this wall for the express purpose of making hand shadows.
---
Step into the triangle of mirrors, and try to figure out where all those reflections are coming from.
---
The Infinity Mirror was much simpler, just two big mirrors on opposite walls of an otherwise-empty hallway.
---
In the Health exhibit, these microscopes were set up to view a few prepared slides.
---
A modified wheelchair was set up in a small corner of the room with ramps, a door, a pay phone, and a few other items to help us appreciate the issues of accessibility. Here I'm turning around to go back up the ramp I came down, and shut the door I'd left ajar behind me. Going uphill is tricky. It was hard not to cheat with my legs.
---
Martha's friend's husband was performing with his community band at this early holiday celebration in Southlake.
---
After visiting the Pulitzer Prize photo exhibit at the Sixth Floor Museum (yes, at Dealey Plaza), where photography was prohibited, we walked around a bit and wound up at City Hall. Aside from the upside-down architecture by I.M. Pei, the big attraction there is a herd of forty or so bronze longhorns, complete with bronze cowboys to keep them on the straight and narrow.
---